Tohoku, Japan
A year after the Great Earthquake
Recovery Stories in Two Small Towns in Tohoku, Japan
- by John Chee on May 23, 2012

After a long flight across the Pacific Ocean, the plane finally touched down Narita, Japan, an airport that I got to know well when I worked in Tokyo between 2007 and 2009. As a photographer, I was instantly gratified by the natural beauty and culture of Japan. As a Chinese American, I read Kanji (Chinese characters in the Japanese language) and understand basic Japanese. This advantage let me travel to many remote locations. Among many wonderful places, Tohoku (northeast) gave me quite an impression. After the Great Earthquake in 2011, I felt that I had to visit Tohoku one more time. Three photographers and I started from Sendai. We charted the route to go along the 300-mile Tohoku shoreline, visited evacuees who lived in the areas that were hit the hardest, and interviewed volunteers that have been tirelessly helping the recovery of Tohoku.
 
The massive damage was incomprehensible and I don't think the widest angle lens would be able to capture how it was like to stand in the middle of the disaster area. More than a year went by, most of the debris were cleaned up or at least organized in a Japanese way. The view of the costal cities from an elevated ground was like a large Japanese "bento" lunch box. Crashed vehicles were stacked and grouped in certain neighborhood blocks. Wood, metal, etc. were sorted in a similar fashion. Comparing to the scenes a year after Katrina in New Orleans, the Japanese government should get an "A" in the scorecard. However, after talking to some of the locals, the situation was quite different.
In Minamisanriku, Miyagi we went into a new seafood store on the hill. When we arrived at the store front, the first thing that caught my attention was the logo of the shop. It was an octopus with a mustache and a hat. As soon as I met the owner, Yasushi Miura, I knew exactly how did the mustache and hat make it to the graphic. Miura's old store was destroyed by the tsunami and he used his saving to open this new store to serve the community. But, it happened after he had coordinated volunteers to help relieve the disaster in the local area. A few days after the earthquake, Minamisanriku still did not get the attention of the first responders as there were much greater needs in larger cities such as Rikuzentakata, Iwate and Ishinomaki, Miyagi. But, the situation in Minamisanriku was just as dire. Instead of waiting for the arrival of government's support, Miura decided to take matters into his hands using his local knowledge. While rice, clothing and other supplies started to arrive from all over Japan and the world, Miura led a group of volunteers to organize and deliver them to evacuees. That was how Project Fumbaro Eastern Japan began, long before the temporary housing was built by the government. At its peak, there were well above two hundreds shelters that volunteers supported on a daily basis.
As some evacuees moved into temporary housing facilities, their needs changed from basic necessity to items that can help evacuees get back on their feet, such as basic home appliances. I also learned in this trip that that many folks in Tohoku did not have bank accounts. Their savings were washed away with their houses by the tsunami. Fishing and seafood products made up the majority of the local business in this coastal town. There was nothing left for evacuees to do for living neither. It explained how much help did the evacuees need. After hearing Miura's story, I came to appreciate what the octopus in his store's logo could mean. He was definitely resourceful and able to mobilize a lot of people at a time. By mid-2013, when evacuees are supposed to move out of temporary housings based on the time table set by the government, it will probably take more than what Mirua could offer on the transition.
To see the extent of the impact of the disaster, I visited, Kitakata, a small town in Fukushima, approximately 60 miles away from the shore. Kitakata is famous for its ramen noodles and sake wines. In this part of Fukushima, the earthquake did not caused much structural damage. Nobuo Shoji, who ran Yumegokoro Sake Brewery in Kitakata told me that only two empty bottles in his brewery felt and broke. Shoji said, "It was a miracle!" However, Kitakata and other towns in Fukushima with similar situations does not have the same luck in general.
I went to another old and much smaller brewery in town. This establishment has been in Kitakata for over three centuries. Following the "Free Tour" sign in front of the door, I walked in the brewery. Unlike in Yumegokoro where I'd got to meet the owner, the Sake Master, etc., I did not see a single person inside this old brewery during the business hours. But, with my camera, I was like a kid in a candy store. The traditional wine making equipment and the empty bottles were great subjects for me, photographically. But, after a few dozens photographs, I could not help but to think about what had happened to this place. Therefore, I believed that it should be time for me to leave. On my way out, I finally saw a gentleman at his 70's sitting behind the desk by the front door. He told me that his sake did not get to the market much these days. Even some of his loyal customers chose another brands because agricultural products, including sake from Fukushima are not popular among Japanese anymore.

As a matter of fact, based on the market demand, handheld radiation detection devices became available to the Japanese market as a new household gadget. Consumers were skeptical about products bearing the name of Fukushima due to the scare of radiation as a result of the releases of radioactive materials from the Fukushima Dai-ichi Nuclear Power Plant after the Great Earthquake. Additionally, many Japanese do not believe their government any more after the attempt to cover up the problem of Fukushim Dai-ichi incident and the delay of distributing disaster relief funds to evacuees. Regardless how much the government said that crops from Fukushima are safe and farmers in Kitakata use water source from a mountain far from Fukushima Dai-ichi to grow rice, it's not good enough to convince consumers to buy Kitakata's products again.
It has been more than a year since the disaster when I visited Fukushima. "I Love You & I Need You, Fukushima," the catchy song that the Japanese media still often played to remind the country how much help was needed. It seemed to provide merely a moral support. I am not sure if the World Bank's estimate of the record $235 billion economic damage of the Great Earthquake included the impact to small Fukushima towns like Kitakata.

When I went to Tokyo in 2007, a friend of mine once said, "Japanese are like a duck swimming on a pond. No matter how fast she paddles, all you can see is a well composed duck floating on the water." After this trip, I came to believe that Japan is not swimming in the pond any more. She is paddling really hard upstream and probably could use a helping hand. Yasushi Miura rose to the occasion for his home town when government resources stretched too thin. It will take a lot more leadership inside the government and out to get Japan on track again.
Special Thank You

Mr. Satoru Watanabe
Mr. Makiyo Yazawa
Mr. Takefumi Hirashima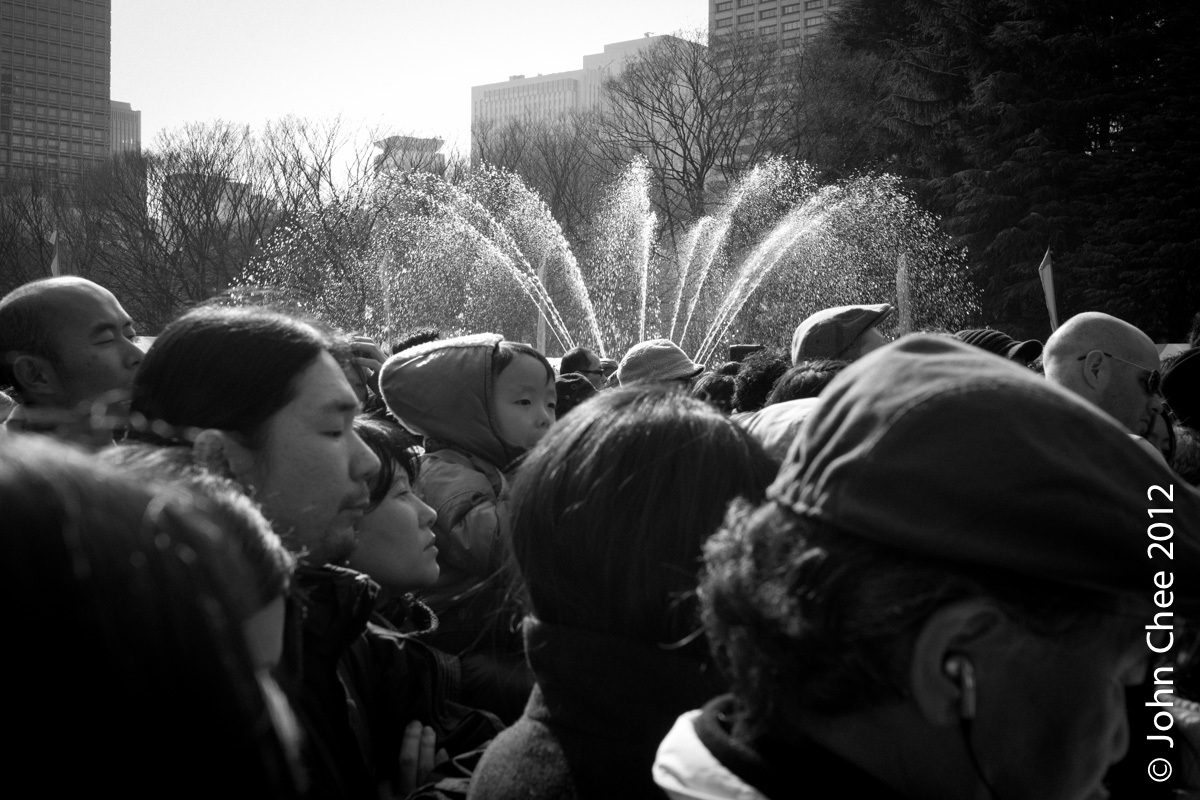 A Moment of Silence, Tokyo (March 11, 2012)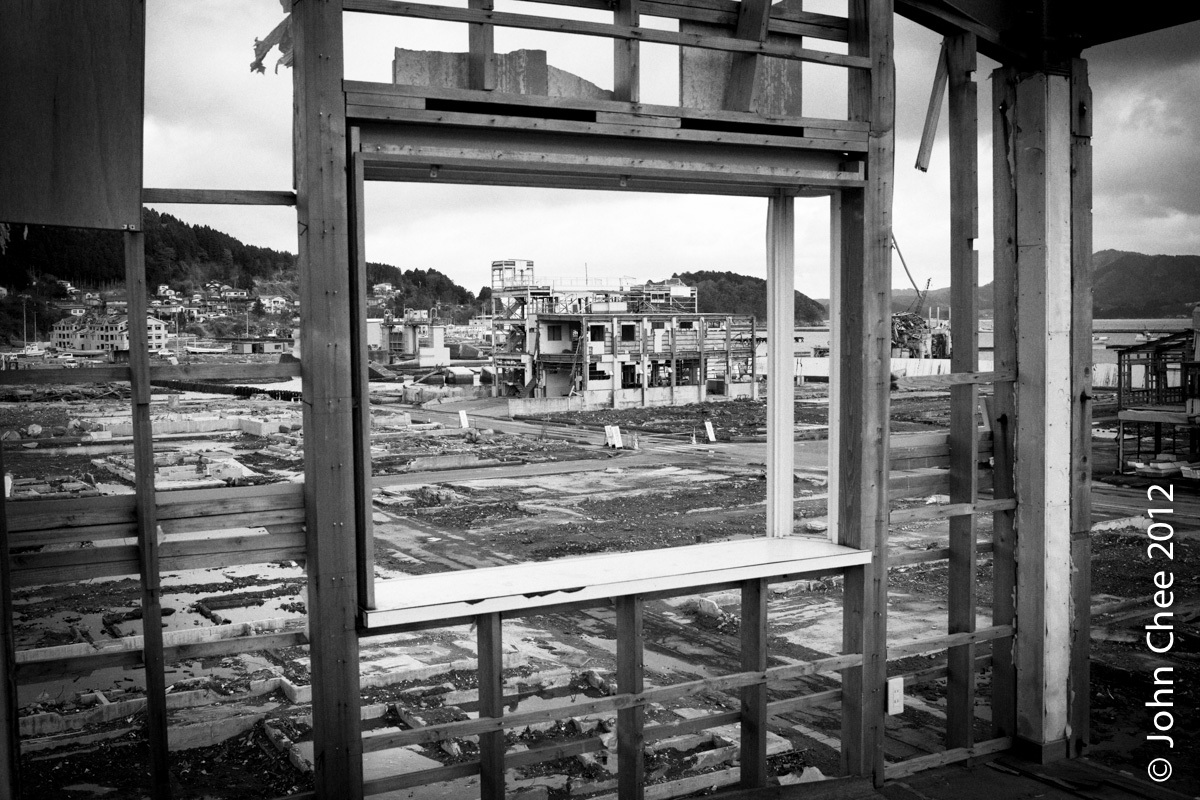 Through a Window, Minamisanriku
Shaken Foundation, Minamisanriku
Knocked-down, Minamisanriku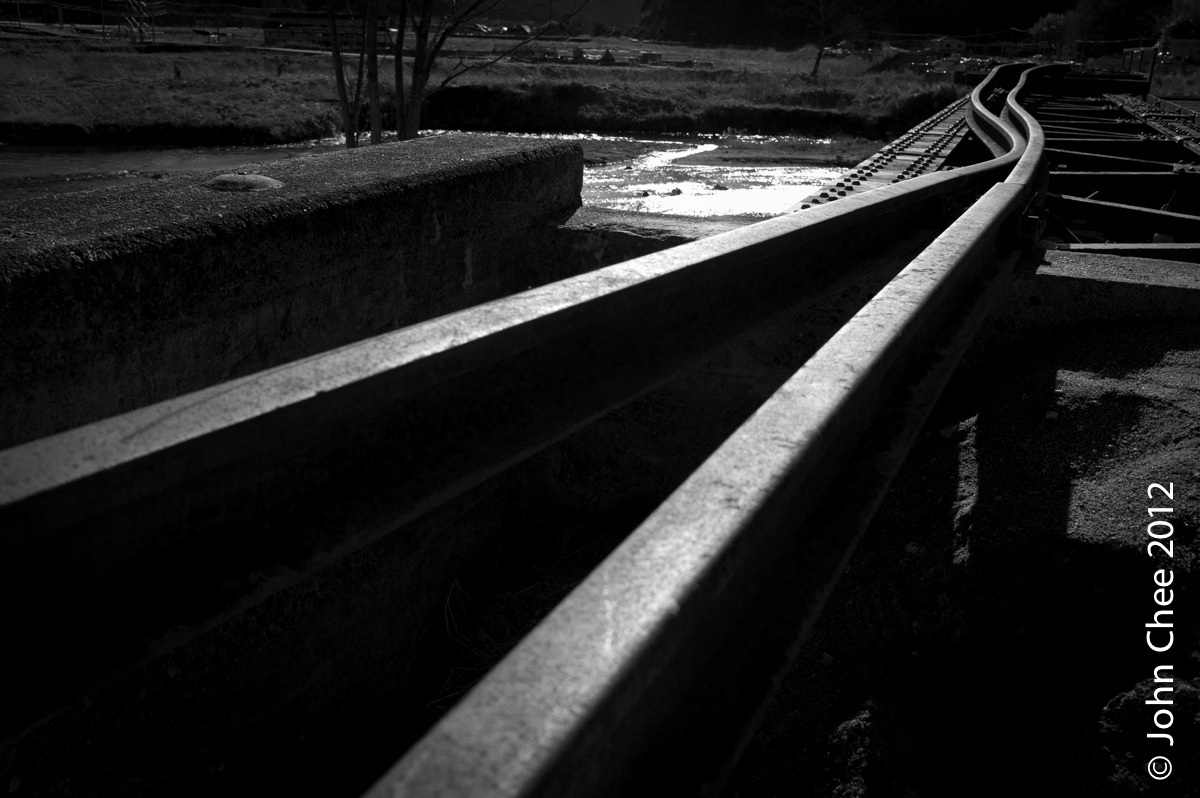 Bended Train Tracks, Takekoma (3 miles away from the shore)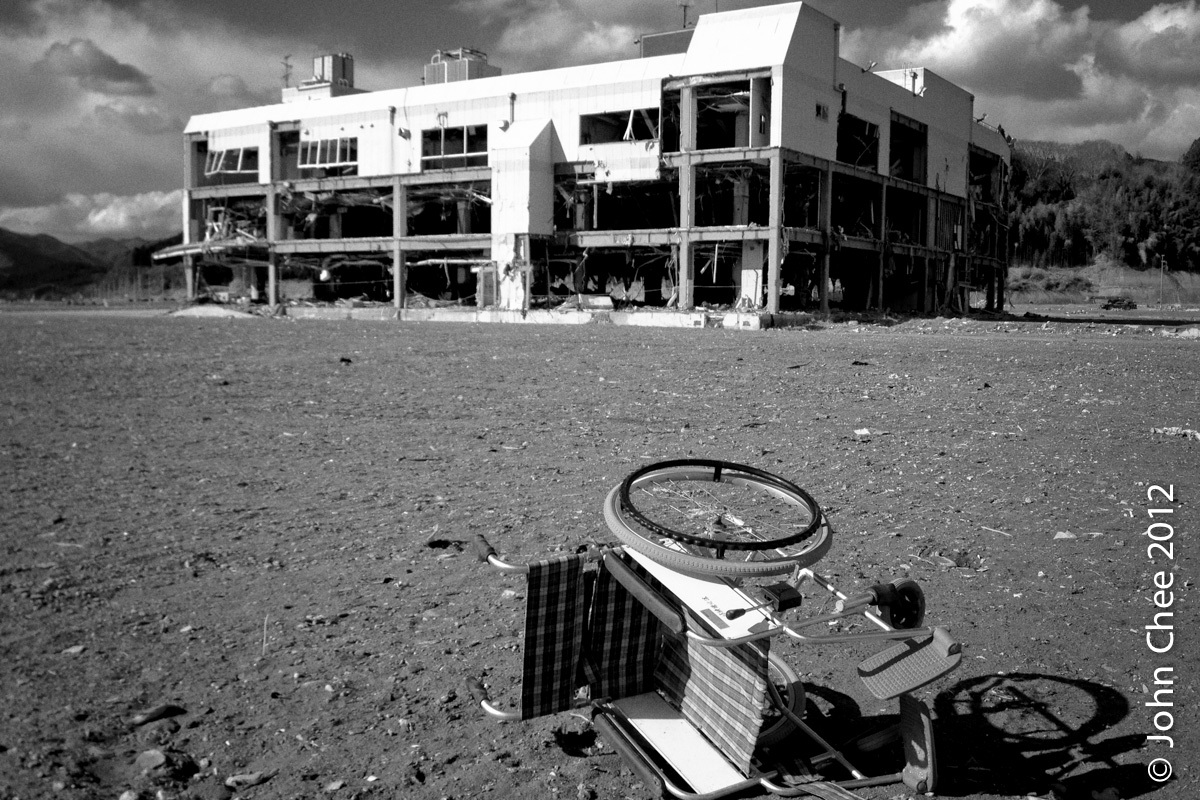 Fallen Wheelchair, Rikuzentakata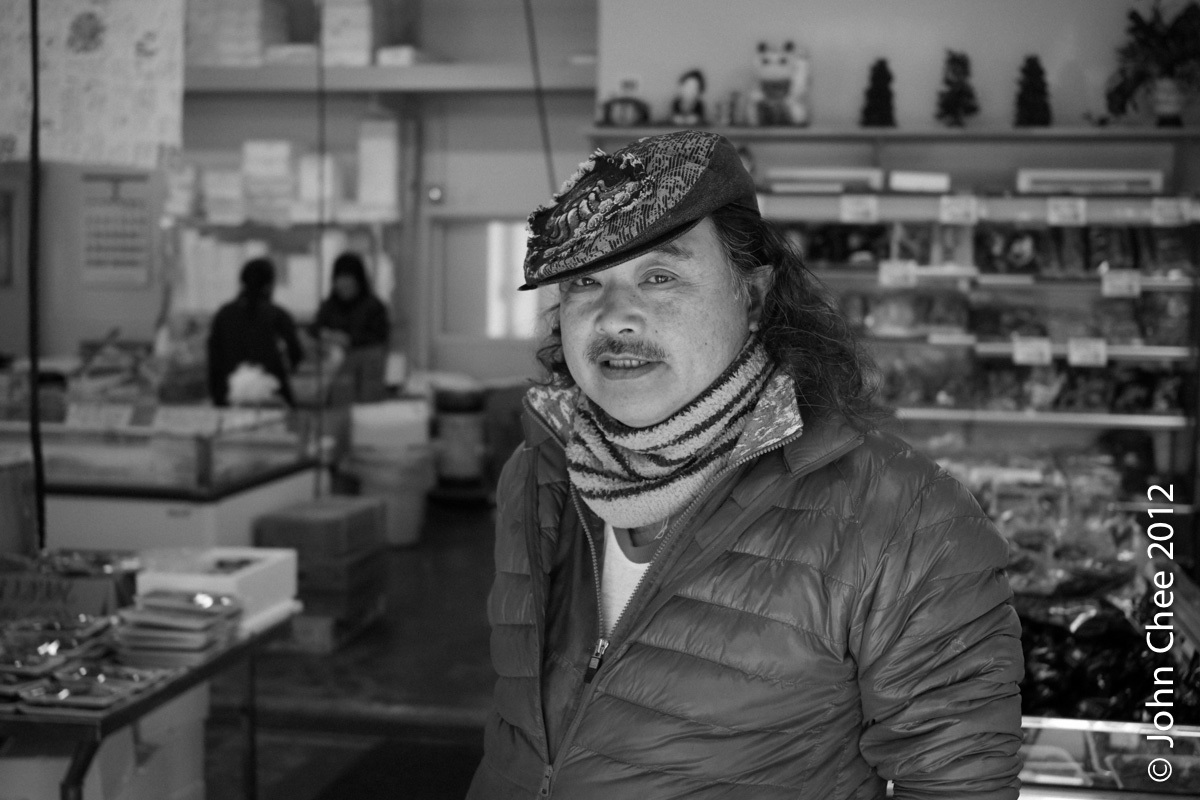 Mr. Yasushi Miura in Front of His Store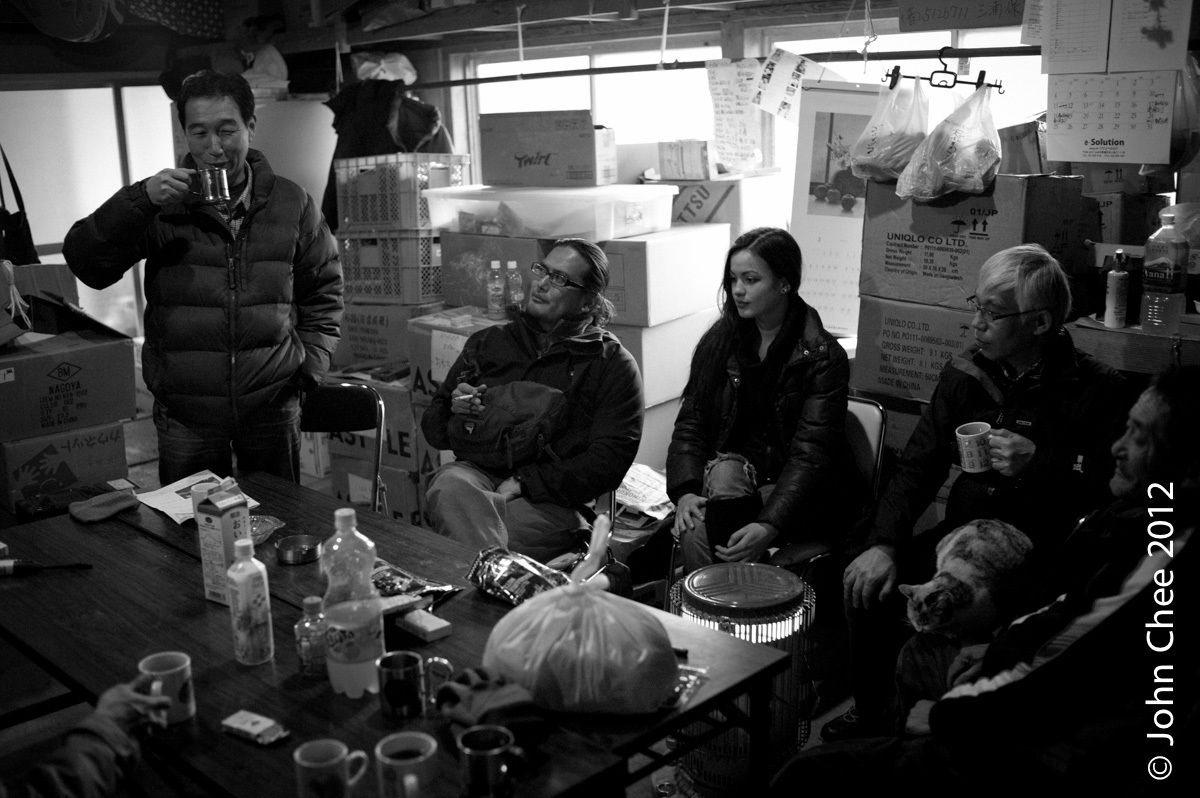 Vehicle No. 3-211, Ishinomaki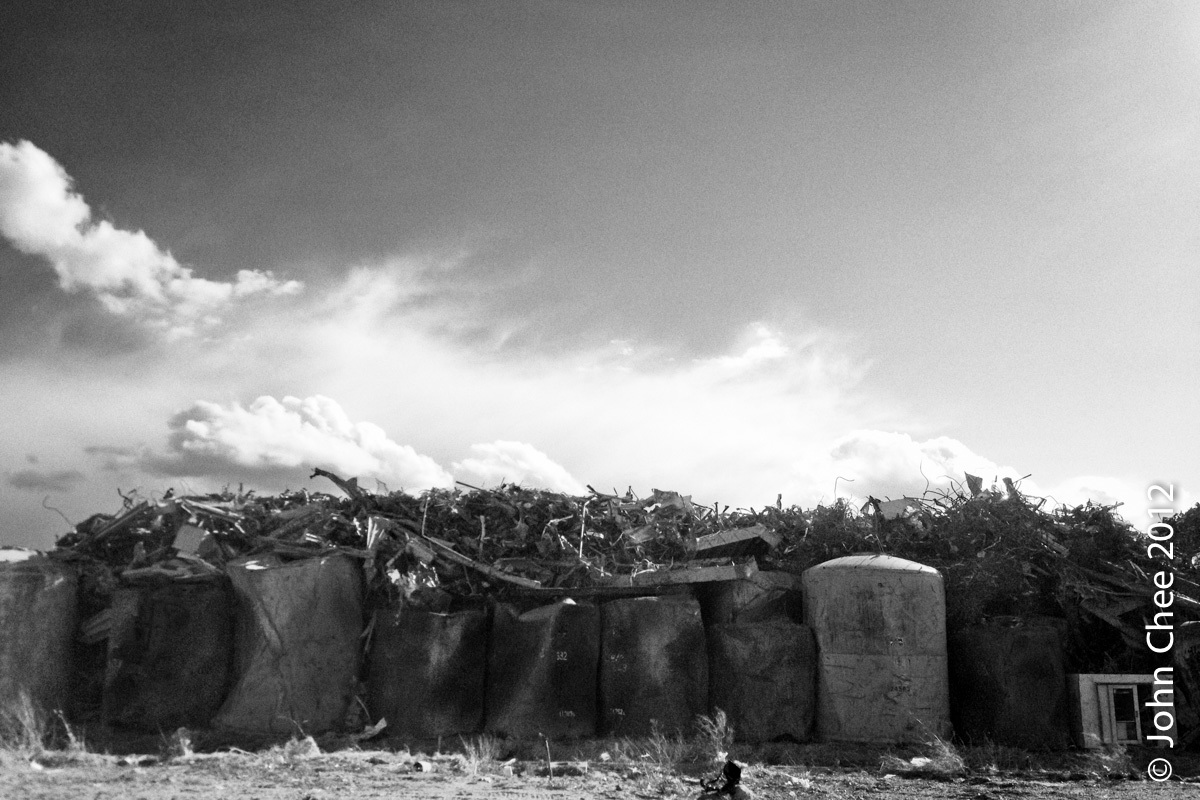 Scrap Metal, Rikuzentakata
Owner, Deserted Brewery, Fukushima
Dripping, Sake Brewery, Fukushima
Takao Nakano, Evacuees from Okuma-machi, Currently Living in Aizuwakamatsu
Temporary Housing for Fukushima Evacuees, Aizuwakamatsu
Primary School Students, Kitakata 200km away from Fukushima Daiichi